Easter Sunday in Kerry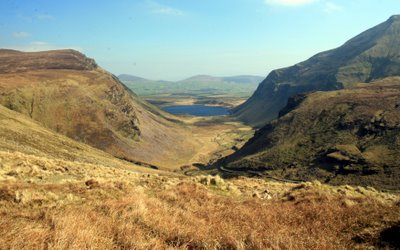 I am in Ireland at the moment, and I spent the long Easter weekend in Kerry. Only friggin' gorgeous it was. Californian weather. My brother announced he was going to buy a fleet of SUVs just to egg global warming on a bit - he hopes this will increase the likelihood of Ireland's weather trending towards the balmy side of the thermometer.
Yesterday some went to mass, and some ate cholate eggs, but we took blue-sky advantage and hiked up past Annascaul Lake, and, to my surprise, Shane (who came to Ireland with me), made it to the top and down. I was sure his five year old legs would get knackered at some stage and I'd end up carrying him down. There was a small trick involved, though - my sister informed him that
Gruffalos
* lived at the top of the mountain, but probably weren't there as they were taking their annual holidays to China.
Half way up, he proved his city slickerdness and asked my brother-in-law how many more blocks were left to go.
*If you aren't a parent, it's a fantastic childrens' book, if you are a parent and haven't heard of it, go buy it
.
Labels: Canon 30D, Photography