Buddy's Lane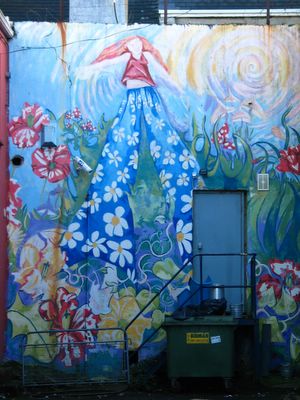 Once upon a time, a different life time it seems, on my weekend's home from college in Galway, I used to frequent a tiny bar in Limerick, called Buddy's. It was at the end of a narrow lane, off Fox's Bow, itself a laneway, connecting Thomas Street to William Street. Although the lane has a different name, everyone referred to it as Buddy's Lane. A cat swung in the bar, would be.....dead. It was that small. Most people actually hung out around the tables and beer barrels stationed outside. The clientele were a motley crew of students, hippies, musicians, (I qualified on all three counts), artists, and most prominently, The Limerick Road Tramps biker club. All patrons had as common ground, a love of the demon weed. Or in those days, hash. You could smell it as soon as you got near the alley. A tiny red haired bloke by the name of Rusty was a reliable supplier. I'm sad to say that the last I heard he was killed in a motorcycle crash several years back.
The bikers Harley's lined the alley on a Saturday night, and at closing time, the noise of the bikes being started reverberated off the tall alley walls and made me feel like I had my head inside the engine of an F-15. They were a fearsome bunch, and this kept the local rabble away from the bar.
The owner was a bloke named Frank, whose daughter had been a schoolmate of mine back in secondary school. Anyone who hung out in Buddy's understands the meaning of, (this needs a Limerick accent)," udder side Frank!" There was a stack of tapes behind the bar, and when a side ended, inevitably someone would yell this in the direction of the bar.
One great advantage of the alley was, that if the local coppers decided that some miscreant dope smokers were due a bust, by the time they got down the alley, any illegal substances would be lying on the ground, rendering arrest for possession impossible.

The photograph is a mural at the end of the lane, taken while home for my sisters wedding last Christmas. The bar is long since closed, the bikers built a clubhouse outside the city, but many of the clientele that I still am in contact with, reminisce fondly about those days.